False Hearted Teddy - teddy bear mystery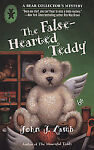 It's here!!! A while back I had a give away for a copy of The False Hearted Teddy by John Lamb


My friend Daphne got it and when she was done, she put in her address label and sent it to me. After I read it, I put my address label below it and gave it away on my blog. Hopefully people will keep doing this until the inside cover is full of names of everyone who has read it and they will return it to Daphne.

I adore mystery books and obviously teddy bears too. So I later got copies of John's other two books: The Mournful Teddy and The Crafty Teddy. I realized I

needed

to have another copy of The False Hearted Teddy and so I ordered it and now I have an

almost

complete set.

I say "almost" because John has finished the next teddy bear mystery... The Clockwork Teddy. It will be out later this year. I have pre-ordered it and can't wait for it's arrival!

Labels: My Hobbies